I have been in this survey game for a while now—20-plus years. As time has passed, the advancements in technology have been amazing and have made us so much more productive. We can produce 1,000 times the amount of data in one-tenth of the time it used to take to collect and process it. The way we charge for these advancements in relation to the old days is a hotly debated topic for another day. For now, we will stick to the technology and its benefits.
I started out reading Vernier on a theodolite and dragging around a 100- or 200-foot steel tape. Then we got a top-mounted EDM that looked like a small microwave on top of our theodolite, but we still chained everything under 100 feet anyway and wrote it all down in the field book. Next came the total station and data collectors. Man, we were cooking now and production went through the roof. We could accomplish so much more in a day without hand calculations and writing down every angle and distance. Then came GPS—days of traversing for miles were reduced to two hours, then one hour, then eight minutes to now three-minute observations to get centimeter-accurate positions on the face of the Earth. All of these advancements have been extremely expensive when they first came on the scene but have now become another common tool in the survey rig we could not imagine doing without.
The latest advances have been in the areas of laser scanning, LIDAR, mobile mapping and Unmanned Aerial Systems (UAS) or drones. These latest technologies have allowed us to capture exponentially more data on the order of 10,000 times what was previously possible. It allows us to deliver incredibly dense and rich three-dimensional data sets that document every change in topography, building or other structure. As we move forward into a three-dimensional design world, our clients—the architects, engineers, and designers—are going to expect this kind of rich 3-D data, and if you are not able to provide it, you will quickly become obsolete.
The one advancement that I feel is an absolute game-changer for every survey firm is the UAS or drone system. Using this new technology to execute old-school photogrammetry allows us to collect days' worth of field data in hours. In fact, it really lets us collect more data than has ever been possible no matter how much time you spend using conventional surveys. We can now collect millions of data points in a few hours' time—when collecting a few hundred or thousand would take days or even weeks to complete.
Let's take a look at a couple of examples of how this technology has been utilized at FAST to improve turnaround times and the quality of the data we produce. The first project was an ALTA Survey of a sports arena covering approximately 35 acres and having about 1,400 parking spaces. This survey did not include topographic elevations but did include all improvements, including parking stripes as well as the boundary and title work of course. A traditional survey of total station traversing, GPS and locations for this property was estimated to require the following:
| | |
| --- | --- |
| Field Crew | 80 Hours |
| Survey Tech | 40 Hours |
| PSM | 8 Hours |
| Total | 128 Hours |
We were basically looking at a minimum of three weeks to get this project completed and delivered to the client. Of course, the client had short due diligence on a multimillion-dollar deal and needed the survey faster than that—the usual in our world. This is where the ability to fly the drone and do the mapping from the combination of the generated orthophoto and point cloud saved the day.
Using the UAS system allowed us to complete the project on the following schedule:
| | |
| --- | --- |
| Traditional Survey Crew | 12 Hours |
| Drone Crew & Processing    | 6 Hours |
| Survey Tech | 40 Hours |
| PSM | 8 Hours |
| Total | 66 Hours |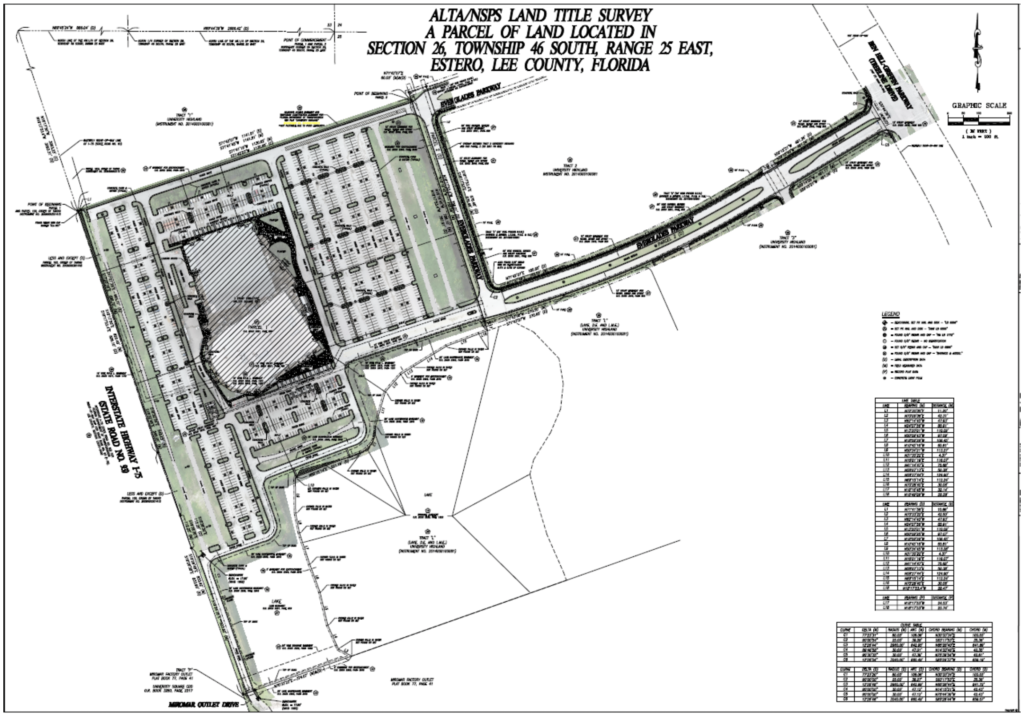 Drone Based ALTA/NSPS Survey
We were able to deliver our preliminary survey to the client in less than two weeks to allow our client ample time to review, make comments and have the final draft back for closing. An added bonus was the ability to provide an orthophoto as a background on the survey that was collected on the day of the survey date. This allowed for a more comprehensive view of the project over straight CAD linework. The client was thrilled with the timeliness and service provided and more than happy to pay the cost of the survey based on an estimate of almost double the time, vastly increasing the margins we were able to generate.
The second example we'd like to share involves straight topographic data and volume calculations. We had a client contact us to provide monthly monitoring of a material pile that needed to be rationed over an extended period of time. This stockpile of material is quite large in the spring and is gradually used over the course of the summer and winter. The client needed to monitor this use to ensure the material would last until the spring.
The material pile covers approximately 20 acres and is at times over 50 feet tall. The material is very loose on its slopes, so climbing is very difficult and can be quite dangerous. Before the client was estimating the volume by putting an RTK GPS receiver on a front-end loader and driving it around on the pile where it could to collect data. They would then try to supplement as best as possible on foot. As you can imagine the results were less than stellar.
We proposed to set permanent ground-control point targets around the pile and collect photos using our drone. Utilizing PIX4Dmapper, we then processed those photos into point clouds to obtain our volume calculations and provide our results. The difference in the two methods was amazing:
Traditional:
| | |
| --- | --- |
| Number of Data Points | 1,500 points |
| Time to Collect Data | 6 Hours |
| Time to Process & Deliver | 4 Hours |
Drone Mapping:
| | |
| --- | --- |
| Number of Data Points | 56 Million points |
| Time to Collect Data | 20 Minutes |
| Time to Process & Deliver | 3 Hours |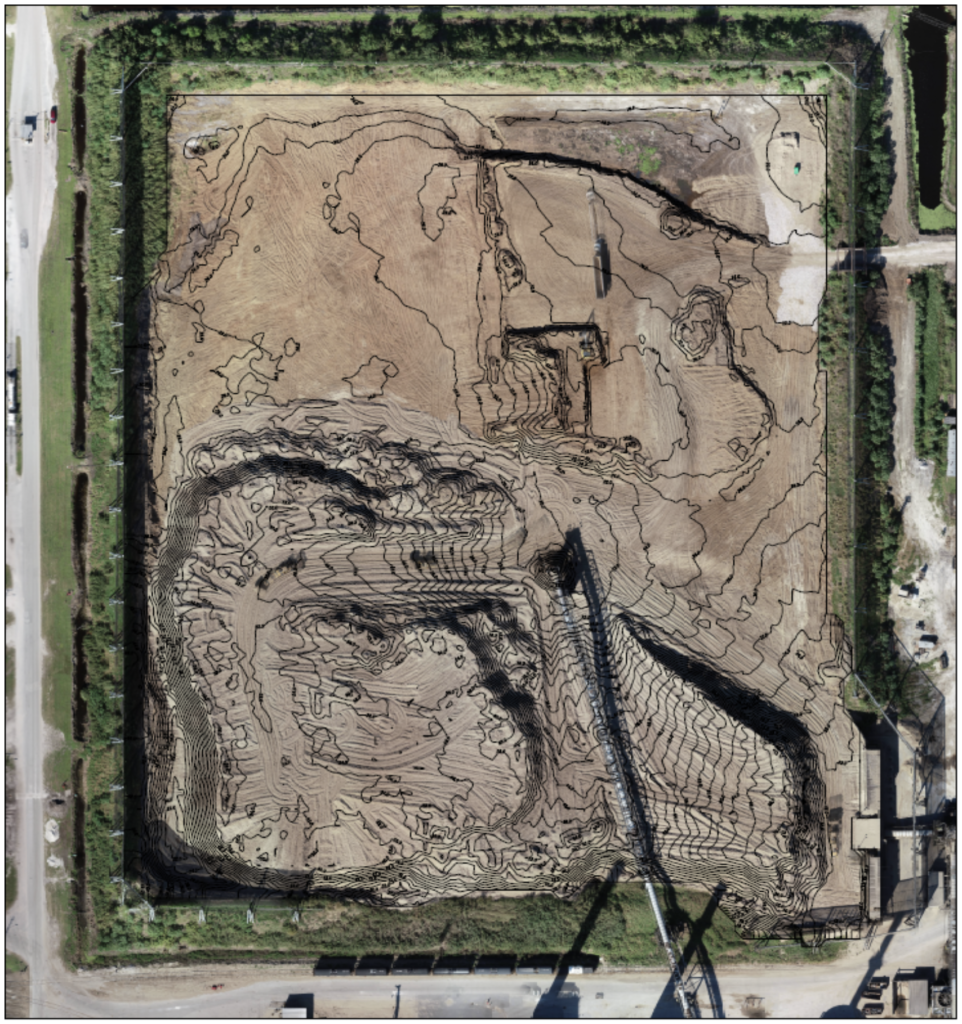 Drone Based Volume Survey
Again the use of a UAS allowed us to deliver the data much faster—same day instead of days. Even more beneficial was the quality of the data and the accuracy of our calculations. We ran our calculations using two different software—PIX4D and Civil3D and both volumes came out within 1% of each other. The comparison to the traditional survey that had been done the day before showed their volume was off by more than 25% from the true volume. This was obviously due to the limitations in the ability to collect comprehensive data to calculate the volumes. Using drone data with the increased data density allows us to take into account very small changes in the surface of the pile increasing overall accuracies.
As these two examples show, UAS systems and the abilities they bring are going to revolutionize the way surveys are done—the same way GPS did previously. If you are not developing an in-house UAS program or at least using a UAS subcontractor, you are falling behind. As we move forward, clients are going to come to expect the more comprehensive 3-D data UAS and laser scanning brings. Point clouds will become common deliverables and old ways of a couple of thousand points and interpolation will no longer be acceptable. The benefits of surveyors are quicker turnaround times and fewer man-hours needed. This, assuming pricing holds similar to current methods, will significantly increase the margins we are able to generate. It's a win-win for both sides—the client gets better data faster and surveyors can increase their margins.
Dave Dagostino
President
F.A.S.T
About FAST: Florida Aerial Survey Technologies (FAST) is a full-service aerial-mapping firm offering both photogrammetric and LIDAR-based drone mapping services. We also offer consulting services to firms looking for guidance on developing in-house UAS programs. Founded in 2018, FAST brings over 30 years of survey experience and 10 years of UAS and private pilot experience to its clients.